Return to Headlines
Immokalee High School's Beta Club Earns National Recognition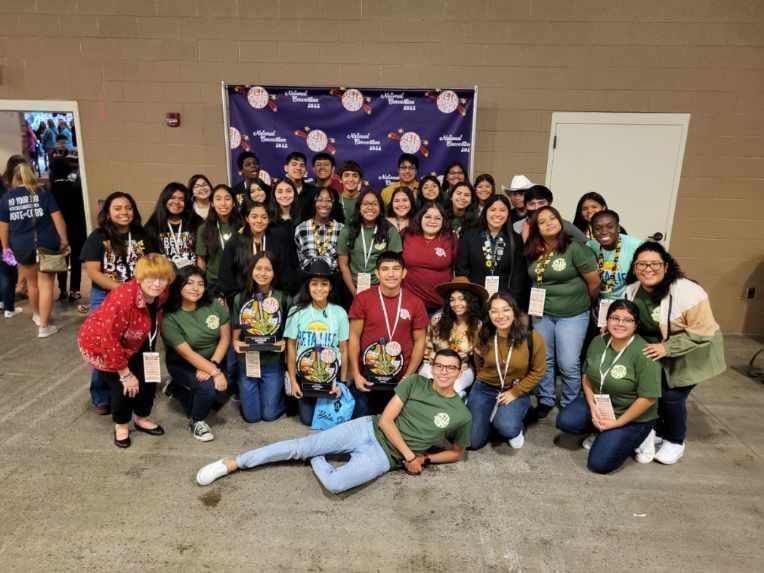 Immokalee High School's (IHS) Beta Club has a rich history of success. They continue to bring home numerous state and national honors, and this year is no different. Having earned state titles at the Florida State Beta Convention in January 2022, 34 Beta Club members from IHS qualified to attend the National Convention and represent the State of Florida. We are extremely proud of this talented group of students who brought home the following national awards:
Service Learning – 1st Place
Character Performance – 2nd Place
Meeting of the Minds – 2nd Place
Portfolio/Scrapbook – 3rd Place
Scrapbook – 7th Place
Spanish (Grade 9) – Kelly Garcia – 7th Place
Living Literature – 10th Place
The team's success is also thanks to the hard work of club sponsors Linda Ayer and Adriana Villanueva, assistance of teacher Fred Rimmler, and support of parents.
While in Nashville, the Club participated in a service project to benefit homeless individuals living in the area. In addition to helping with the organization of donated items, the IHS Betas successfully donated 321 items to the project! To further advance its leadership skills, the team also attended the Shield Summit, led by Ted Wiese, and participated in small group activities focused on key concepts of being a leader.
Below is an excerpt from one member detailing the team's placement in the 2022 National Convention:
Service Learning exhibits all the different service projects the club has participated in over the course of a year. This year's theme was 'Betas in Action' as we all are similar to superheroes when we help out in our communities and make a difference. We are so excited to say we are National Champions in this category as it took a lot of teamwork to get the project done.
Character Performance is a small skit that has to depict the general theme of the year. This year's theme was 'Beta Together.' The representatives of our pillars - Character, Service, Leadership, and Achievement - were able to place 2nd overall this year with the help of an Italian local, a scientist, a fraternity member, and the founder of Beta, John W. Harris, who helped them learn the real meaning of Beta Together.
Meeting of the Minds is a competition where a group of individuals work together as a team to solve a problem using skill and creativity. This year's problem was to create a structured tower using only foam cups, straws, and notecards while creating a space at the top to successfully hold a small ball without the use of any glue or tape. The team used its resources, skills, and teamwork to place 2nd while having lots of fun.
Portfolio is a competition where the club creates a book to demonstrate its service projects and club activities while also highlighting the club as a whole. With the help of desserts and many working hours, the team was able to place 3rd.
Living Literature is a competition where individuals prepare a scene from a book using creativity to bring that scene to life. This year's inspiration came from Harry Potter and the Deathly Hallows where Harry and Voldemort are in an intense battle. This epic scene took a lot of work and earned the team 10th in the nation.
"This convention will be one for the books, and we look forward to what comes next."- IHS Beta